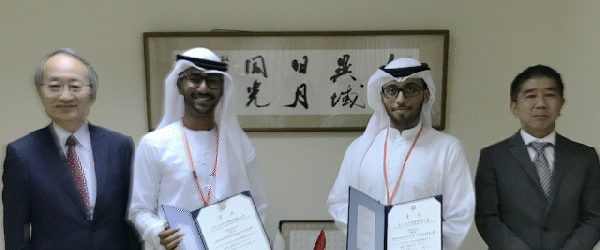 Who am I?
Hi! I am Mohammed Al Meraikhi!
The earlier GIF is from a picture taken in the Embassy of Japan, UAE. This is when my friend Ahmed Al Ali and I won the bronze award for our one-shot manga "mightier"!
That was my first self-published work as a writer, and really, neither Ahmed nor I expected for us to be awarded anything. You can imagine how shocked we were when the news broke to us!
I have also earlier worked on this animation with another friend of mine, Abdullah Al Braiki:
And I composed the theme song for that video too!
So how come my blog is about coding? here is the fun part!
One thing lead to another
Funny enough, it has been years since I have written a single word for the "Mightier" Manga. The reason for that is that I trapped myself into writing a story that is beyond my writing capabilities at the time. The level of complexity of it gets me lost at times, so what of the audience?
I went on an epic quest to learn the deep technicalities of creative writing, and Brandon Sanderson's writing course has been one of the most enlightening things for me. as I got back to writing, I realized that the creative writing apps that exist right now can quickly get things really messy and unorganized, unless it's actively avoided by the writer. And the tools that they currently provide aren't enough, and their features aren't well integrated.
So, I decided to develop my creative writing app! Honestly, I believe writing apps can be better, with better integration for the tools a writer would need.
Onto developing ourselves!
After some while in my development journey, I decided to create my blog to share the knowledge that I have accumulated. I felt like there are a lot of things that needed to be taught differently. When I started developing in React and knowing nothing about it, a lot of tutorials felt missing important pieces of information to get the idea across.
My aim here is to create easy-to-digest tutorials, progress updates for my app, and the lessons I learned along the way!
There will be a lot of things to be learned here, and I believe we can share a lot of knowledge to improve ourselves as developers!